Insecticide
Insecticides are substances used to kill insects. They include ovicides and larvicides used against insect eggs and larvae, respectively. Insecticides are used in agriculture, medicine, industry and by consumers. Insecticides are claimed to be a major factor behind the increase in the 20th-century's agricultural productivity. Nearly all insecticides have the potential to significantly alter ecosystems; many are toxic to humans and/or animals; some become concentrated as they spread along the food chain.
---
About Insecticide Filling Solution
Insecticide is the mix of chemicals which might lead to the erosion of seals of the pump. Then, end up liquid leaking or incorrect filling volume. To avoid this situation, we have adopted anti-erosion seal accessory.
From the cleaning side, the main mechanism and electrical parts are water-proof. Hence, the operator could easily clean the machine regularly.

Insecticide Production Line (High Accuracy + Spray Cap)
Piston filling machine is a high accuracy filling machine. This is based on the exactly same size of filling cylinders. Once, the filling cylinder size is slightly different with others. The filling volume would be also different. We have installed a filling volume minor adjusting mechanism. That is to say, you could totally avoid the situation of incorrect filling volume.
We have encountered the gear type of screw cap. The normal capping wheels could not tighten the cap perfectly, due to the capping wheels would skip on the caps. Hence, we customized the capping wheels to fit the caps.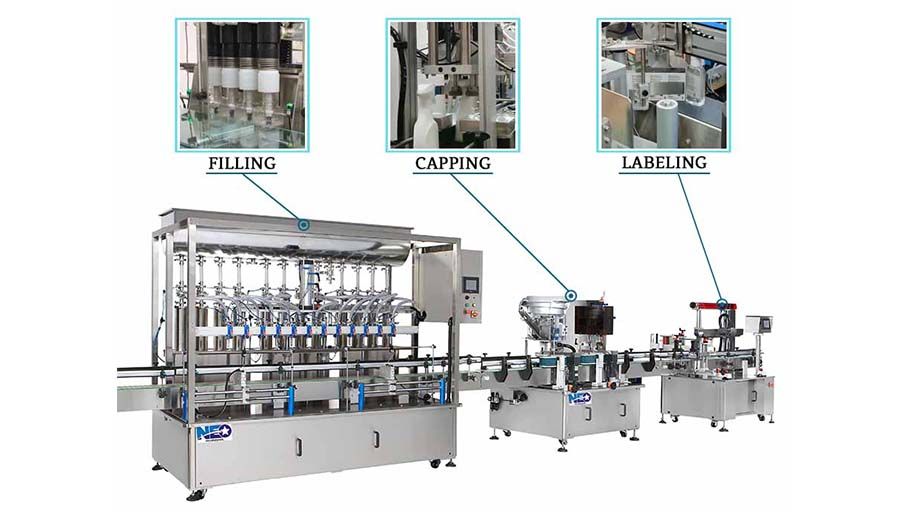 Specification

| | |
| --- | --- |
| Filling Range | 0.5-1L |
| Cap Type | Screw Cap / Press-on Cap |
| Control System | PLC+HMI system |
| Power Phase | 110v or 220v, supply single |

Q&A

Q1: Do you have filler to fill insecticide?

A1: Yes, our filler can fill the liquid like insecticide. Additionally, the material of our filler is made of #SUS306 and #SUS 314 which can prevent the filler being eroded from the insecticide.

Q2: If my product is trigger spray bottle with insecticide, do you have capping machine to tighten the bottle like mine?

A2: Yes, we do have cappers to tighten the type of trigger spray, and we also designed the machine before for the similar kind of products.

Q3: Do you have customer service if the machine has problems after I purchase it?

A3: Yes, we do have customer service. And the warranty of our machine is one-year warranty. Additionally, we have online service or local maintenance to solve the problems the machines might happen.