Tabletop Bottle Labeling Machine (Standard Model)
LR110A
Tabletop Round Bottle Labeling Machine
Our tabletop round bottle labeler can make all kinds of round bottle labeling job done with compact in size, easy in mobility. Various labels like self-adhesive labels, multilayered labels, fragile labels, coated paper stickers, waterproof beer labels, anti-counterfeiting labels, or Kraft paper stickers can easily apply by LR110A. The final product is fine, beautiful and tasteful.
This labeler is design for multiple types of round bottles with either full wrap-around or 1/2 labels, regardless of the material of the bottle. There is no need to set up change labeling parameters and adjust the speed repeatedly during production. One person can operate the machine. Even it only takes one person to operate the labeler, human errors can still be greatly reduced. The labeling speed can easily reach around 20 to 50 bottles per min, it is your first choice to meet all the round bottle labeling needs.
Easy to operate, reduce human error
Our semi-automatic bottle labeling machine LR110A is an intelligent labeling machine, which equipped with electronic control panel for easy operation. There is no need to change set up frequently during production, which can greatly reduce human errors and labor costs, and increase production speed and efficiency.
Provide customers with high-quality round bottle labeler and multiplied production capacity
The tabletop labeling machine can also be combined with other packing machines, such as cappers, fillers and date coders, as a high-performance production system. It also comes with a labeling smoothing wrap belt module and a durable conveyor belt. The labeling result is exquisite, firm and not easy to detach. Effectively multiplies the production capacity for customers, thereby improving their international competitiveness.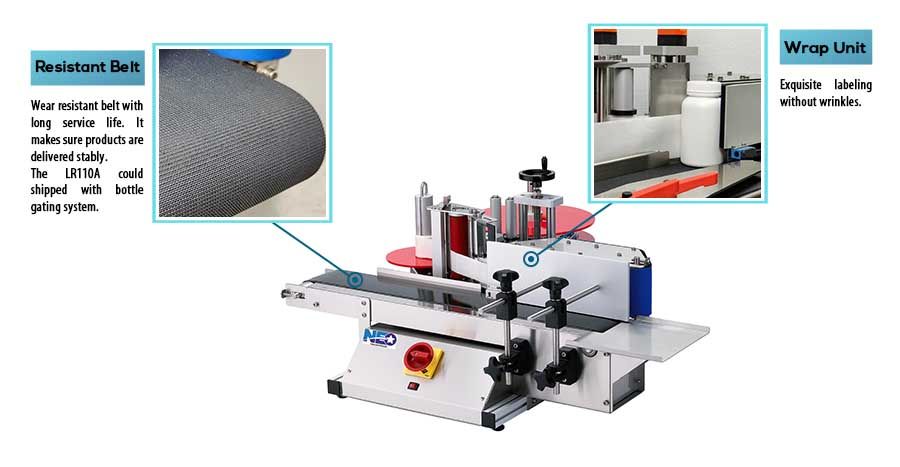 Neostarpack has been dedicated to professional research and development for many years. Furthermore, we pursue creating high-quality and durable bottle labeler machines at all costs, providing customers with outstanding products and solutions. The LR110A is suitable for the manufacturing environment of various industries. Our product is your best choice! We provide specific installation and instruction. Please fill in all * fields below. We will contact you shortly.
Application & Advantage
Suitable goods
Nutritional supplement, throat lozenge, pickled cucumber, wheat gluten with peanut, diffuser, round tube, pepper mill, oil dispenser, cleansing oil, sweet chili sauce, conditioner, large round bucket, ampoule, poster paint, alcohol spray, mosquito repellent, etc.

Suitable container shape
Upright round bottle, cylindrical, hexagonal, small bottle, beer bottle, plastic bottle, glass bottle or octagonal bottle, and products that need label a single sticker and 1/2 or full circle label.
Suitable container material
Glass, paper products, cans, tinplate, Styrofoam, tea caddy, metal and various plastic bottles are suitable.

Suitable labels
Kraft paper sticker, self-adhesive label, multilayer label, barcode sticker, laser security label, appliance label, fragile label, transparent label, coated paper sticker, pearly label, wine label, nameplate sticker, security label.
Labeling style
The label sensor detects the bottle. While labeling, rotate the bottle by 1, 3/4, 2/3, or 1/2 circle.

Suitable industries
Pharmaceutical industry, cosmetic industry, food industry, biotechnology industry, manufacturing industry, daily necessities chemical industry, high-precision product technology industry, etc.
Features

1. Widely used in various industry
Bottles from everyday life are applicable, such as Vitamin B, poster paint, hand soap, wine and olive oil.
2. The bottle labeling machine could ship with bottle gating system to match labeling speed
3. Components of the labeler parts are customizable and have great precision
4. Tabletop round bottle labeler is convenient and high mobility
It's small-sized and space-saving.
5. Food grade conveyor belt is wear-resistant with long service life. It delivers bottles steadily and quickly.
6. Engineering plastics, there are more than 80% recyclable material
The machine is made of engineering plastics is impact resistance and high-temperature resistance, in addition to well thermal mechanical performance. Most material is recyclable in turn achieving sustainable development.
7. Made of SUS#304 stainless steel and aluminum alloy and has passed the GMP certification standard
8. The LR110A can combine with our filler or capper as a production line
The automatic warning function will be switched on in case of missing or damaged labels.

Specification

| | |
| --- | --- |
| Labeling Speed | 20-50 btls/min (depending on the size of bottle and label) |
| Bottle Size | Diameter 16mm-100mm, Height 30-160mm |
| Label Size | Width 10-100mm, Length 10-300m |
| Label Reel | Inner Diameter 75mm, Outer Diameter 300mm |
| Power Supply | 110 or 220VAC, 50/60Hz |
| Machine Size | (L) 950mm (W) 890mm (H) 450mm |

※ Actual product specifications may varied

Option Accessories

Bottle infeed turntable
Bottle gating system
Date coder
Transparent label sensor
Particular roll labeling set: suitable for 3/4 to 1 circle labeling

Introduce Movies

Related Products
More Information?
Download the product brochure FREE!

Download
Tabletop Bottle Labeling Machine (Standard Model) - Tabletop Round Bottle Labeling Machine | Sold in 50 Countries High-Quality Industrial Packaging Equipment Manufacturer | Neostarpack Co., Ltd.
Based in Taiwan since 1998, Neostarpack Co., Ltd. has been an industrial packaging machine manufacturer. Our main products, include Tabletop Bottle Labeling Machine (Standard Model), labelers, liqiud filling machines, tablet counters, capping machines, bottle rinser machines, complete filling lines, label counters, card feeders and label dispensers, which are total packaging solutions for customers in bottling packaging machinery industry.
Neostarpack team has devoted ourselves to manufacture labeling machine, automatic filling machine, tablet capsul counter, capping machine, and other packaging machine. We offer bottle packaging solutions, help to improve production automation experience for over 20 years. We also provide professional OEM service and customized machine. We extend business domain to over than 50 countries.
As an automatic filling packaging line supplier, besides packaging labeling and capping equipment, filling and closing machine can be tailored to the specific needs of the customers and their industries. Both with advanced technology and 20 years of experience, Neostarpack ensures each customer's demands are met.
View our quality products
Labeler
,
Filling machine
,
Card Feeder
,
Label Applicator
,
Label Dispenser
,
Filling production line
,
Tablet counter
,
Counting machine
,
Capping machine
,
Bottle Labeler
,
Bottle Labeling Machine
and feel free to
Contact Us
.