Semi-automatic Round Bottle Labeller
LR1100
Semi-automatic round bottle labeling machine/ tabletop round bottle labeler
The LR1100 Tabletop Round Bottle Labeler is used for labeling all sizes of round bottles and upright cylindrical products. The label is wrapped around the bottle with a full circle, 2/3 circle, and half circle.
It also can apply labels on the front and back of the round bottle. Various kinds of containers can be labeled by this labeling machine, such as PE bottles, PET bottles, PP bottles, other plastic bottles, glass bottles, metal bottles, etc. This round bottle labeler can perfectly apply the label to the product and helps manufacturers to improve the quality of packaging. And it is controlled by knobs and a microcomputer system, which makes it easier for the operator to use and learn quickly.
High Productivity With Low Manpower
The purpose of the tabletop round bottle labeler is to automatically apply labels to various round bottles and cylindrical products. Its labeling applicator is driven by an advanced stepper motor for stable and precise labeling operation. This tabletop labeling machine offers the same advantages and accuracy as the automatic stand-type bottle labeling machine, providing you with high productivity and reducing labor requirements. With its compact design and small size, it does not occupy too much production space and is widely used in various industries, including food and beverage, cosmetics, health food, pharmaceutical products, cleaning products, chemical products, etc.
LR1100 Equipped With Liftable Wrapping Unit To Provide Higher Labeling Position For Special Bottles
The LR1100 tabletop bottle labeler features a wrapping unit equipped with a height adjuster, which allows the label to be attached to higher parts of the bottle, providing a wider labeling position. Its simple design and eye-catching red label spool disc make it easy for users to identify label quantity. And it is easy and fast to change label roll. Its automatic sensor system detects the product and controls the dispensing of the label, and the wrapping unit makes the label firmly adhere to the product, enhancing the quality and aesthetics of the labeled product. With the simple adjustable mechanism, the labeling machine is versatile and can be used on a wide range of round bottles. It is the most economical labeling solution for small and medium packaging production.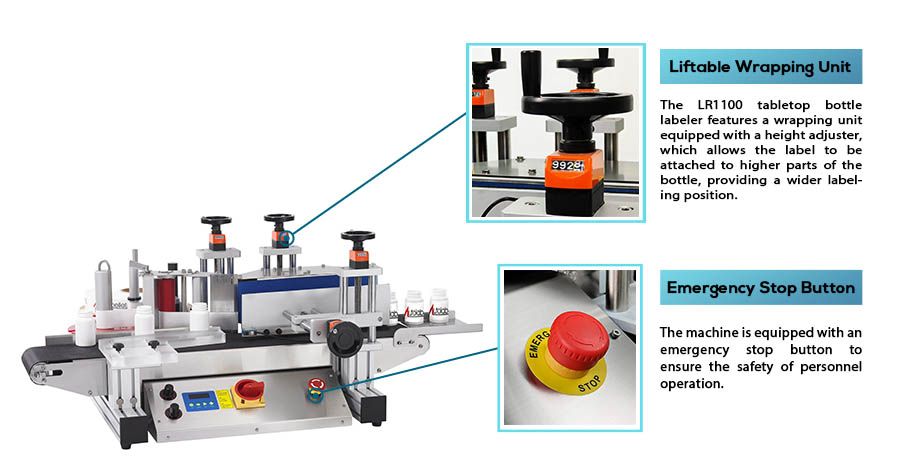 Wide Application, One Labeler Both For Large And Small Bottles
In addition, the advanced round bottle labeler can be equipped with more adjustment units according to your special needs. The labeling height and angle can be adjusted according to the product size to accommodate more types of round bottles, oval bottles, and other round containers to achieve more diverse labeling methods and improve the applicability of the labeler. One labeler can apply to several products in various sizes and styles. More options will be proposed according to your actual needs.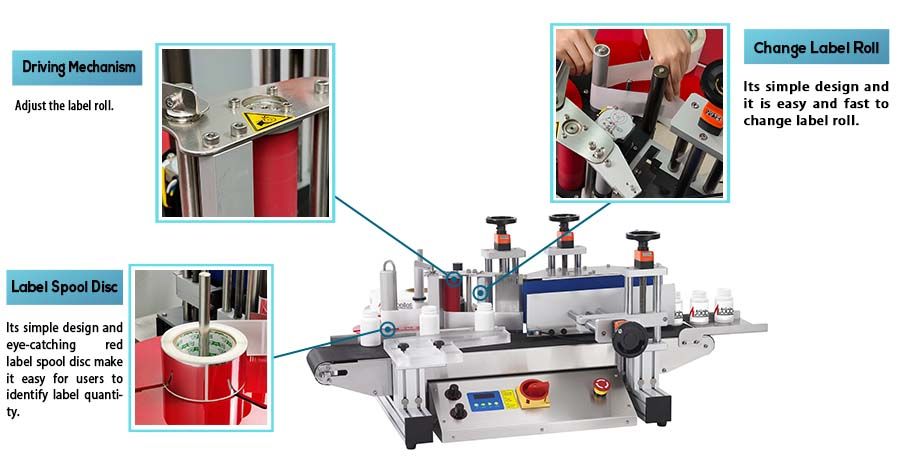 Advantages:
Economical labeling machine, suitable for you to pursue high labeling quality

Flexible connection to various packaging machines for filling/counting-capping-labeling compact production line

No need for a lot of manpower, one person can operate the labeling machine individually
Application & Advantage
Suitable for
Edible oil bottles, sauce bottles, wine bottles, medicine bottles, beverage bottles, beer bottles, tea tins, skin care products, lotion, essential oil bottles, wine products, shampoo, detergent, perfume, health food, etc., And all kinds of upright cylindrical products.
Applicable Container Style
Round bottles and cylindrical products, products that can stand upright and that require wrapping around or a half circle.
Applicable Container Materials
Glass bottles, cans, aluminum cans, and other metal containers can be labeled. Paper products, PE bottles, PET bott.
Applicable Label
Self-adhesive labels (non-transparent), promotional labels, bar code labels, security seal labels, anti-counterfeit labels, tamper-proof labels, anti-tampering labels, tamper-proof labels, film labels, sealing labels, laser labels, computer labels, fragile labels, laser anti-counterfeit labels or transparent labels (need to use the transparent label sensor ).
Labeling Style
Label wrap around the container with a full circle, 3/4 circle, 2/3 circle, 1/2 circle or a single label on front and back.
Applicable Industries
Pharmaceutical industry, food industry, biotechnology industry, beauty manufacturing industry, chemical industry, high precision product technology industry, etc.
Features

1. Microcomputer controlled, easy operation and high precision of round bottle labeling machine.
2. The control knob is integrated into the control box for easy and smooth operation.
3. The labeling applicator is driven by stepping motor for precise position and stable production speed, which makes it easy to control the production capacity.
4. Equipped with precision photoelectric sensors to accurately detect labels and products for precisely labeling position.
5. Controlled by microcomputer processor to set parameters according to product labeling requirements.
6. Advanced labeling applicator is available as an option. More adjustment units are available to adjust the labeling height and angle according to the product size, which is suitable for manufacturers with a wide variety of products.
7. Motor-driven conveyor and wrapping unit can be speed adjusted to meet capacity requirements.
8. Small in size and requires only one table for production space, which is suitable for small and medium production labeling needs.
9. The tabletop labeling machine can be used directly as a stand-alone machine or connected with a filling machine and a capping machine to build a compact production line according to the actual production.
10. The label dispensing length can be set by button.
11. The main frame is constructed of stainless steel and hardened aluminum alloy, which is strong and cGMP compliant.
12. When changing the labeled product, the label can be replaced quickly without disassembling any parts, easy and time-saving.
13. Adjust the wrapping unit according to the size of the product and the height of the label position to make the label attach more smoothly.
14. Equipped with an output counting function, easy to monitor the output number.
15. Tabletop Round bottle labeler with simple user interface, versatility and low maintenance cost
16. The label is smoothed with a sponge wrapping unit to maintain the integrity of the container and not damage the bottle during labeling.
17. The modular structure of the labeler is designed with good quality, precision, and high efficiency.

Specification

Label applicator motor: stepping motor
Labeling speed: 10m/min
Capability: 20~40pcs/min (subject to actual label size and product)
Labeling accuracy: +/- 1mm
Bottle size: (Dia)16mm-100mm;(H)30-160mm
Label size: (L) 10~310 mm; (W) 10~100 mm
Label roll: (ID) 75mm ; (OD) 300mm
Power Supply: 110v or 220 VAC; 50/60Hz; single phase
Dimension: (L) 1010mm (W)845mm (H)445mm
*The actual dimension may vary depending on configuration, detailed specifications are subject to the actual order.

Option Accessories

Transparent label sensor
Date coder
Printer Bracket
Customized guide rail
Customized conveyor

Photo Gallery

Introduce Movies

Related Products
More Information?
Download the product brochure FREE!

Download
Semi-automatic Round Bottle Labeller - Semi-automatic round bottle labeling machine/ tabletop round bottle labeler | Sold in 50 Countries High-Quality Industrial Packaging Equipment Manufacturer | Neostarpack Co., Ltd.
Based in Taiwan since 1998, Neostarpack Co., Ltd. has been an industrial packaging machine manufacturer. Our main products, include Semi-automatic Round Bottle Labeller, labelers, liqiud filling machines, tablet counters, capping machines, bottle rinser machines, complete filling lines, label counters, card feeders and label dispensers, which are total packaging solutions for customers in bottling packaging machinery industry.
Neostarpack team has devoted ourselves to manufacture labeling machine, automatic filling machine, tablet capsul counter, capping machine, and other packaging machine. We offer bottle packaging solutions, help to improve production automation experience for over 20 years. We also provide professional OEM service and customized machine. We extend business domain to over than 50 countries.
As an automatic filling packaging line supplier, besides packaging labeling and capping equipment, filling and closing machine can be tailored to the specific needs of the customers and their industries. Both with advanced technology and 25 years of experience, Neostarpack ensures each customer's demands are met.
View our quality products
Labeler
,
Filling machine
,
Card Feeder
,
Label Applicator
,
Label Dispenser
,
Filling production line
,
Tablet counter
,
Counting machine
,
Capping machine
,
Bottle Labeler
,
Bottle Labeling Machine
and feel free to
Contact Us
.